Special Commissions
As well as my regular domestic size chandeliers I take on larger projects for specific sites, like bars or shops. I can also make domestic sizes that are bigger than my regular models but not as big as those pictured below. I have worked with many different architects and interior designers. Here are some examples and please contact me for prices and sizes.
Bar Room Bar, Hampstead, London
When Roger Myers acquired the first Bar Room Bar on Rosslyn Hill in Hampstead, he asked me to make a chandelier big enough to fill the front window.
This was a fantastic opportunity to work on a different scale and gave me a chance to use my larger cake tins but still create something light and elegant.
I went on to make many other large pieces for further BRB developments, working with different interior designers on each project.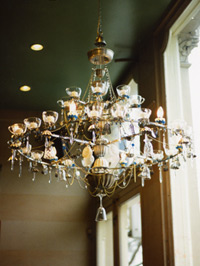 British Council Collection
The British Council commissioned a large chandelier for their collection and touring show 'Reclaimed' which featured recycling in contemporary British craft and design. The show was a big hit and I met up with the tour in Sydney in 2000 to visit schools and run recycling workshops with 10 - 15 year olds.
To see catalogue article and image;
http://www.resurgence.org/resurgence/issues/champeney209.htm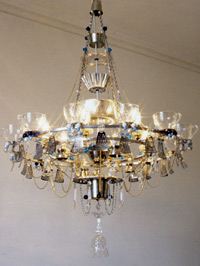 Triskel Arts, Cork City, Ireland
When Penny Rae became Art Director of Triskel, she invited me to get involved with the European Capital of Culture there in 2005. Over a 3-week residency I built a big two-tiered chandelier using lots of objects sourced in local charity shops. The public could visit the studio and see the making in progress. I later returned to Cork to run recycling workshops for children in the Triskel Arts Centre.